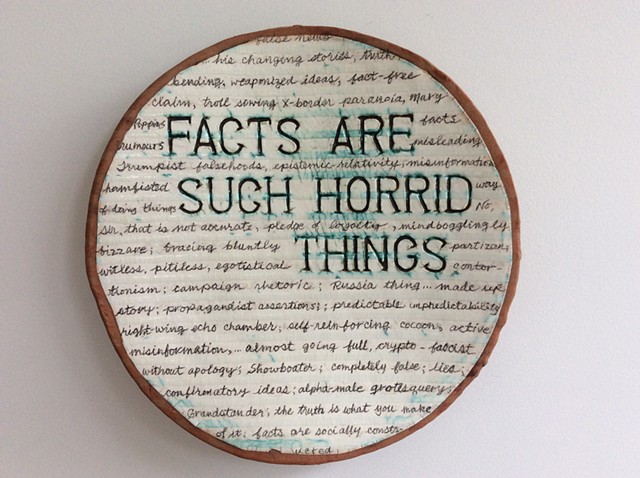 Politics on My Plate: Serving Our Daily News
Meet the Artist, Sunday, April 22, 1 - 3pm
April 5 - May 8, 2018
AOE Gallery, Shenkman Arts Centre, Ottawa
Politics on My Plate: Serving our Daily News explores the role of the media, inequality and fighting back. It is an exploration of the economic and political paradoxes that arise in our day to day lives with dry wit, irreverent thought, combinations of imagery, and a sharp knife. Source material is the day to day absurd, books, the rabbit hole of the internet, daily news reports, and an examination of the various roles and responsibilities of the maker as consumer, activist and family member. Politics on My Plate fuses a contemporary critical artistic practice with the sensory, hand built nature that comes from working with clay as part of the craft arts.
For this exhibition the maker aligns herself with a lengthy tradition of political ceramic art. She riffs on the idea of the traditional commemorative plate, plays with a DIY aesthetic and offers up frank, observant political imagery which is given backbone by its accompanying commentary. The subject matter is found all around us: the women's march and Mary Poppins' boots, airport security confiscating mini sticks, cheeky fly swatters, and text from Jane Austen writing in the late 1700's that has been adapted for today, "facts are such horrid things."
Working with hand crafted paper clay, the regular circle of the homey commemorative plate is eschewed. Because the large wall plates are hand stretched, they become misshapen during the handling process and the red clay edges, although rough, become the frames. On top of this is poured a surface of crackled white porcelain, a reference to our shared colonial history, upon which images and text are added. The look is not precise and precious but stressed, depicting a world in flux and conflict. The images, when viewed in the context of their narrative background stories can be politically fun, frank, and possibly rude and confrontational. Ultimately, the maker wants to connect with the sympathetic viewer to share common concerns and experiences.
Puck Janes is primarily a hand builder and sculptor in clay. Her recurring themes have included the Canadian landscape, specifically the cultivation of agricultural lands as determined by our colonial history, current day practices and politics and the extremes from climate change. For this exhibition she explores themes and parallels between current political issues.
"My personal challenges for this exhibition were technical and material based. I was set on incorporating various texts, ceramic transfers and photographic decals into my work, most of which was new to me. " – Puck Janes, clay maker