Puck Janes - Bio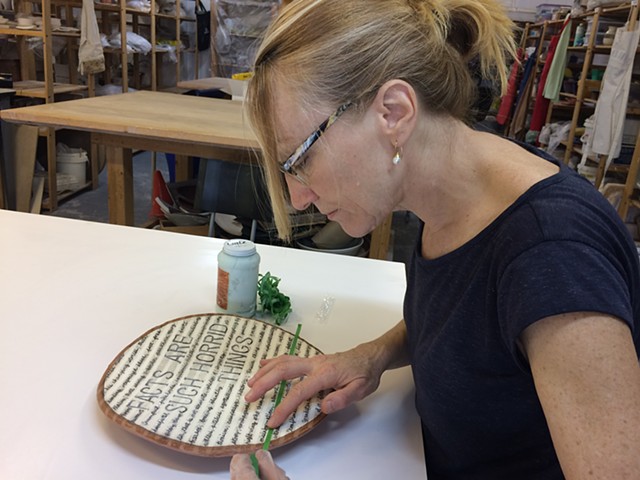 Puck Janes - BIO
www.puckjanespottery.com
I am a member of Ottawa's Gladstone Clayworks Cooperative in 'Little Italy'. This great workspace offers a fully equipped studio with 24/7 access. I moved from Saskatoon, Saskatchewan where part of my focus was the prairie landscape. I explore its subtle beauty in the context of an agricultural economy and history of colonialism.
Ontario has influenced my subject matter and process. Ontario, the province of my birth, is bigger and gazes inward and the landscape is lush and geology ancient. In response I am working on a series based on the Niagara Escarpment; a landscape central to Ontario's watershed, rich in biodiversity, home to hundreds of at risk species, and with a 450 million year old geological history.
Education
I have an applied arts diploma in ceramics from the Saskatchewan Institute of Applied Science and Technology (SIAST) and a Bachelor of Arts in the social sciences. I have attended workshops with many of Canada's great fine craft makers including: Bruce Cochrane, John Etzkorn, Mel Bolen, Sandra Ledingham, Charley Ferrero, Diane Sullivan, Michael Flaherty, Katrina Chaytor, Cathy Terepocki and others. From further away: Michael Kline, Lana Wilson, Kathy Triplett, David Miller and others. Recently I was introduced to glassblowing by Al and Joan Heibert and fused glass by Lee Brady.
Exhibitions and Markets
I have a fall 2017 exhibition: Land from Above and Below at the Atrium Gallery, Ben Franklin Centre, 101 Centrepointe, Nepean and my summer exhibition was part of a group show in Saskatoon, Paper, Clay, and Canvas.
I have exhibited work in several juried exhibitions with the Saskatchewan Craft Council's publically funded Affinity Gallery including 3 annual best of Saskatchewan craft exhibitions as well as SaskTerra Group, Mudslingers Critique Group, NAC-SK Networking for Art Collecting, SK Jazz Festival and others.
I have work for purchase online and at Hintonburg Pottery and Gladstone Clayworks Coop in Ottawa.
Teaching
I teach children's pottery at the Firehall in Old Ottawa South. I have taught adult and children hand building from an afternoon session and weekly classes to 8 week ArtSmart programs in the schools and weeks long summer programs. In art galleries I have worked as a docent, tour guide and instructor.
During my fifteen year association with the Saskatchewan Craft Council I was a juried professional craftsperson and a board member for 6 years; 2 years as CoChair. My work is part of the collection of the Saskatchewan Arts Board, the oldest art board in North America.